Written on the birthdays of those enduring women: Toni Morrison, still on this side, and Audre Lorde, loving us from the other.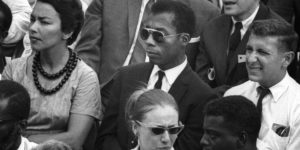 I did not read the reviews, only shared them, because I had not seen it yet. I had planned to read them after I saw it. By all accounts, the film was riveting, moving, good and all of that. An important comment on race and national history in the era of Black Lives Matter. A beautiful articulation of those genius words of that genius Baldwin, wrapped appropriately in the prescience and urgency of their prophesy. A mirror to America, to who we really are, to our individual and collective responsibility. A painful but loving, optimistic look. A good, important film that everyone should see.
The documentary opens with an implicit promise to pick up where Baldwin left off, to revisit the last book Baldwin had been writing, which was to be about his friends, Medgar Evers, Malcolm X, and Martin Luther King, Jr., and their assassinations. This, of course, would be a difficult promise for a documentary to fulfill, even if all of its main subject and prophet's predictions were realized. After all, Ellison's Juneteenth, it was said, was the writer's words but not his novel. And we all know not to watch the "Lost Episodes" of Chappelle's Show.