"Fitting Memphis into the Southern Narrative," NPR's Weekend Edition with Lulu Garcia-Navarro

Me, trying to talk coherently about race and Memphis while also being a super fan of Lulu Garcia-Navarro.
I Am Not Your Negress, Hyperallergic
On Raoul Peck's I Am Not Your Negro.
Oxford American Annual Music Issue, 2016
"Listening for the Country," a bittersweet remembrance of my late father, Arthur Lee Robinson, is part of a memoir-in-progress. Read here:

And listen here:

Rolling Stone, April 2016

Me, on Yoncé's Lemonade and black women's inner lives.
Rolling Stone, February 2016
Okay ladies now let's get in-formation.
Left of Black, October, 2014
So much love to Mark Anthony Neal for this interview.
Creative Memphis Podcast, September 2014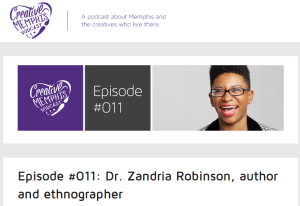 Seriously. Listen to me be hilarious and unsettling at the same time.
Porch Talk on Pop South with Karen Cox, May 2014
Check out my interview with fellow badass of southernness Karen Cox (@sassyprof), author of Dreaming of Dixie.
Outkasted Conversations with Regina Bradley, April 2014
This multi-episode series features the trillest scholars ever conversating–yes conversating–with @redclayscholar, our curator of it all.
Gotta Sang on the Beats They Bring Us: Gender, Class, and 21st Century Blues Women's Epistemology
Blues and the Spirit Symposium, Dominican University, May 2012
Blues meets hip-hop and Erykah Badu meets Nicki Minaj in this examination of blues and black feminist generations in the work of black women intellectuals in popular culture.