November 15, 2013
Review of Susanna Vapnek's Mabon Teenie Hodges: A Portrait of a Memphis Soul Original and Jonathan Isom's I AM SOUL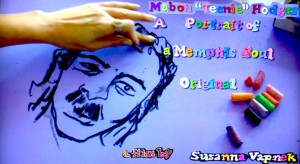 Memphis Soul is a globally popular and widely recognizable brand of music and being-in-the-world. Created by the syncretic integration of West African rhythms, Mississippi Delta field hollers, blues music, and gospel riffs, Memphis Soul came of age in the urban and rural milieu of blues and racial repression from the plantations of Sunflower County to the juke joints of Beale Street. Soul, as a quality of being and an aesthetic, is quite literally at the root of every unique American artistic expression, from the collages of Romare Bearden and the choreography of Alvin Ailey, to the novels of Toni Morrison, to the expanses of hip-hop in the U.S. and beyond. And to be clear, Memphis has a premium on soul as an originary site of its spontaneous expression at the intersection of black urban and rural cultures by the Mighty Mississippi.
This year's Indie Memphis film festival featured a great deal of rumination on and documentary of Memphis music past and present, including Robert Allen Parker and Nan Hackman's Meanwhile in Memphis: The Sound of a Revolution about the post-1970s grit-and-grind DIY genre-transcendent music scene in the city; the dance short "Royal" from Portraits in Motion's Sketches from Soulsville trilogy; Susanna Vapnek's biopic of Mabon "Teenie" Hodges, the Hodges Family, Royal Studios, and the soul sound Mabon Teenie Hodges: A Portrait of a Memphis Soul Original; and Jonathan Isom's I AM SOUL, a portrait of the modern soul scene that features neo-soul everywoman Tonya Dyson. The latter three pieces appeared in sequence in a soul-powered Saturday afternoon. Together, they invited viewers to put them in conversation with one another, to highlight their interconnectedness as comments on the art and context of Memphis soul, past, present, and future. "Royal" pushed for a consideration of the history and continuing significance of soul-as-art vis-á-vis a Soulsville neighborhood ravaged by urban blight and disinvestment. Vapnek's Hodges offered a long-overdue portrait of one of the pioneers behind this globally popular soul sound. Finally, Isom's SOUL highlights the persistent articulation of soul, in neo clothes, in contemporary Memphis. I consider Vapnek and Isom's work together here, as they are the most closely related and elaborated comments on the city's soul sound.
The significance of Mabon Teenie Hodges to Memphis Soul and its global brand cannot be overstated. As the sound behind some of Memphis's most defining soul hits, including a string of epic Al Green records, Teenie Hodges is a major architect of the sonic aesthetics of Memphis soul. Vapnek's film captures Hodges's piercing genius as a function of several intersecting factors: his country rearing on the outskirts of Memphis, his birth into a family with the most perfect musical genetics possible; a particular moment in the trajectory of American music and Memphis music; and a cool personal tenacity that defied convention to seamlessly create conventions. Hodges's electric spirit, which came through as a mixture of profundity and one-line quips funnier than your funniest uncle's, belied the aging guitarist's fragile health. The spirituality evoked by Teenie, the music, and the film captured the ethos of soul music, which is at once spiritual in a godly sense and a carnal-secular sense. When at one point in the short Teenie ruminates on the lyrics "take me to the river/wash me down," he argues that in some ways one can best articulate feelings of human love and partnership by swaddling them in the traditional spiritual language of fervency, water, and baptism. And let the church say, amen (whew!) and amend.
Beyond Hodges himself, the documentary short's supporting cast–the late and legendary Willie Mitchell, Teenie's Hi Rhythm bandmates and brothers Leroy and Reverend Charles Hodges, Royal Studios, and the music (the music!)–rounded out what was an unparalleled treatment of the zeitgeist of Memphis Soul. While funkmasters always claim themselves as the originators of playing on the one, Teenie reminds us that it is Al Green's "Love and Happiness," that is exemplary of this practice. When in the short he taps his foot those five times–those five taps that signal everything in black life from a Saturday morning house-cleaning to a two-step–and strums out the opening notes of the song on his guitar sans electric hookup, we are transported behind the scenes of an era that we have been fortunate to inherit and remix. Claps and cheers after the short's conclusion reverberated back to the screen and swirled around Teenie, who was down front and eccentrically clad as usual. He turned to us and waved and gave it right back. In response to an audience member's question, Teenie told us, "any music that catches on will last always." Certainly, soul music, Teenie's music, our music, endures in new forms and outlasts the most complex challenges.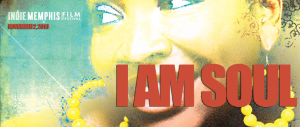 Sequentially and in some ways chronologically following Vapnek's short, Isom's feature I AM SOUL was easily poised to be the contemporary demonstration of Teenie's assertion about the music that will last always. The documentary follows neo-soul singer and consummate businesswoman Tonya Dyson, whom the film situates as vehicle through which we might understand the contours of neo-soul in a post-soul moment. Like Teenie Hodges, Tonya Dyson came of age on the outskirts of the city (sure, a county away, but urbanists know that everything from here to both Jacksons is the outskirts of Memphis), sharing her hometown of Covington, Tennessee with the iconic Stax artist Isaac Hayes. Homegirl can sang, and her voice paints the aural landscape of the neo-soul scene in Memphis throughout the documentary. We visit Dyson's Covington church and sit with her grandmother and hover over Dyson as she studies a hymnal; visit Dyson's high school; hang out with Dyson on the Memphis bridge; and see her in a variety of performance contexts, including the documentary's climax, Dyson's first performance at B. B. King's blues club downtown on Beale. The documentary highlights other artists on the scene, from the poetic-rapping-singing-beat-boxing duo Artistik Approach, to spoken word artist Darius Phatmak Clayton, to the soulful sangin' Tim Terry, to make its argument about Memphis, soul music, and Dyson's centrality to the legacy on the contemporary music scene in Memphis. Moreover, in moments where the documentary is a portrait of the artist as an individual in and beyond her work–as a new divorcée catching the trolley to work because the car was in her ex-husband's name, as a daughter in mourning over her mother's passing–we are invited into an intimate space to empathize with Dyson's experience. In one performance the documentary highlights, we are up close to the mingling sweat and tears on Dyson's face as she sings the final notes of a song with her background singers acappella. In the wake of the anniversary of her mother's death, Dyson is overcome with emotion. Shouts of "it's okay, Tonya!" and "we love you, Tonya!" ring out from the crowd. It, too, is a moment that takes us behind the scenes of soul, to the sets of raw emotion that power the music, and in Dyson's case, the intergenerational nature of soul–from her grandmother to her mother to her.
In the Q&A that follows the screening of SOUL, Isom notes that he was inspired to make the documentary because when he told people elsewhere that he was from Memphis, they immediately referenced A&E reality crime show The First 48. The ways that I AM SOUL falls short of its intended goals are a perhaps a function of this defensive epistemological position. Contrivances–Tonya on the bridge, Tonya with the hymnal, Tonya posted up looking cool against a wall–threaten to overshadow the sincerity of Memphis's neo-soul scene and its shining star. Further, the documentary has other artists and some Memphis notables, including Hattiloo Theatre's Ekundayo Bandele and playwright Katori Hall, riff on Dyson's influence and the legacy of soul, but fails, despite its clear admiration for Dyson, to effectively give her her due. Although her excessive humility might cause her to blush at this fact, Dyson is near single-handedly responsible for maintaining and nurturing the neo-soul scene, bringing the neo-soul Diaspora into Memphis, and getting contemporary Memphis soul music out to the rest of the world. Her website, the aptly named Neosoulville, is a comprehensive bohemian-soul mashup of fashion, music, and art and serves as a sleek central posting board for the scene. Her work, sweat, and tears support various artists in the city, creating markets for a range of homegrown hip-hop and soul acts. Further, Dyson coordinates the recruitment of acts big and small to perform in the city, from Bilal to Robert Glasper. In a changed economic landscape, her business acumen and vision keep pace with millennial music tastes and consumption patterns while hearkening back to classic elements of a 1960s and 1970s soul sound–live instrumentation, background singers of extraordinary caliber, an ornate fan that she swings for affect and practical purposes on stage. In short, Dyson's significance is too expansive for the box I AM SOUL creates. Because the documentary is not sure if it's a biopic of Dyson, a rumination on soul, a portrait of the neo-soul scene, a concert film, a sword against the stereotypes of misinformed outsiders, or some combination of these things, it misses an opportunity to explore how this significant corner of the Memphis music scene, a continuation of Teenie Hodges's legacy, operates under the direction of a formidable neo-soul talent entrepreneur.
SOUL's shortcomings notwithstanding, Indie Memphis's soul-powered Saturday afternoon was a galvanizing moment for Memphis soul music, past, present, and future. The spirit and spirituality of soul music, whether Teenie's love baptismal or Tonya's integration of her mother's legacy into her art and practice, endures and binds together the varied and diverse experiences of black folks, southern folks, and folks generally. As the progenitors and inheritors of the sound that is amongst the most frequently sampled in hip-hop, Memphis soul artists have managed to take a now-global sound–Memphis Soul–and reinvent it in the music of global youth cultures of resistance. Memphis stays giving the soul message on the downbeat, and is primed to continue to inform art and justice movements in the twenty-first century.

This is the second of three reviews of films that screened at the 2013 Indie Memphis Festival. See my review of Emmanuel Amido's "Orange Mound, Tennessee: America's Community" here.