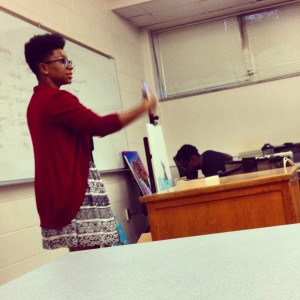 Let me tell you a secret. I'm really just a literary critic/cultural studies scholar masquerading as a social scientist. It took me a long time to understand it, but trust me: the sooner you accept this, the better. My pedagogy is all about these interdisciplinary conversations between cultural theory and social scientific work.
I offer courses on race, class, gender, intersectionality, inequality, the South, urban sociology, and qualitative methods. Essentially, I teach all black feminism everything, all the time. All with heaping helpings of pop culture.
Spring 2017
Gender & Society
Intersectional and interdisciplinary inquiry into gender as concept, social construct, performance, axis of oppression, and lived experience.
Introduction to Sociology
The field, its origins, methods, theory, and questions, painted in broad strokes through popular texts.
Fall 2016
Feminism & Hip-Hop
Bringing the best of black feminist critique to hip-hop.
Introduction to Social Research
A multidisciplinary philosophical approach to the various logics of social scientific inquiry.
Spring 2016
Introduction to Sociology
The field, its origins, methods, theory, and questions, painted in broad strokes through popular texts.
Black Feminist Thought
Retooled examination of black feminist theory focused on aesthetics, protest, and praxis.
Hip-Hop and the Post-Soul South
Still tippin' on vogues, space and time travelin' across the South to analyze race, gender, and region through hip-hop.
Spring 2015
Remixed, remastered, re-done, taking seriously Faulkner's declaration about the past. I know if I'm haunting (on to) you/you must be haunting (on to) me.
Rap, region, and race. Time, sound, space, and body travelin'. And also black feminism. Can't get no better.
Fall 2014
I'm shaking up the traditional approach to stratification and beginning with intersectionality as the framing structural perspective. In your face, Marx.
The syllabus says otherwise for curriculum purposes and whatnot, but this course is really just me talking about Beyoncé, 170 minutes a week, for 15 weeks.
Spring 2014
An intersectional examination of race, class, gender, and region through the relationship between (and representations of the relationships between) black and white women in the South from slavery to the contemporary moment.
A sociological history of the U.S. that challenges the master narrative of American history through a critical examination of the social construction of race.
Fall 2013
Brings together southern hip-hop, reality tv, and a host of scholarly sources to think through southern history, identity, and culture. In short, in Sociology of the South, we make it "cool to be southern."
Focused on the theory and epistemology of qualitative research, learning to investigate the deep structures of the world around us.
Selected Previous Courses
Urban Sociology
Black Feminist Thought
Graduate Seminar in Southern Studies
Introduction to Southern Studies
Graduate Seminar in Social Stratification
Introductory Sociology