My sister and I would have contests to see who could say it the fastest. The winner would also have to nail the neck roll, eye roll, and index finger in the air simultaneously. Grand prize would go to the one who could contextualize it with the best narrative.
"Un-unh, honeybabychickeechile. That's my doll['s] dress!"
"Umm, honeybabychickeechile? You don't know what chu talkin' 'bout. Have a seat."
"Lookaheah, honeybabychickeechile. I'ont e'en like him like dat!"
We were most certainly the nerds on our lower middle class block in 1980s Memphis, and our classical violin lessons exacerbated this. Nonetheless, we shot honeybabychickeechile back and forth with deftness. Sometimes we wouldn't even accompany it with a spoken narrative and would let the neck, eyes, and erect index finger do all the talking.
Honeybabychickeechile emerged from the syrupy sweet yet positively condescending terms of endearment southern women deploy to draw lines of power, privilege, and femininity in polite discourse and interaction. Honey. Baby. Chickadee. Child. Together, they soften the blow of what might otherwise be some unpleasant news or a caustic observation. Further, they preface a read, or shade, directed at a person present or an absent third party. They are words that demarcate the learned and the learner in a social situation. The woman and the child. The indifferent and the scorned. Power relationships, femininity, and womanhood all wrapped up in those words, spat out before street fights as well as spilled out to take real pity on someone wronged.
By the time honeybabychickeechile got to my sister and me, we took ownership of it as southern girls and black girls, both emboldened and tickled by the sass with which it allowed us to communicate with one another and other girls. In the 1980s, when it entered our lexicon with its history that we implicitly knew, the phrase had lost some of the overtness of its earlier sting. Its continued use as a preface to a read or a lesson—accompanied by a stern and steady, but not necessarily ominous, look—hinted at its former life. It had become more or less a preface to sass, an indicator of sass, of gumption, of a bit of unctuousness.  As Honey Boo Boo Child/Chile the reality television and pageant star, Alana Thompson embodies the sass, the reading, the shade, of the phrase, whether we can determine its genealogy or not.
Who knows where honey, baby, chickadee, and child first came together, or how and when their semantic shift to "Honey Boo Boo Child/Chile" occurred. Did Alana overhear some black woman saying it and misremember it? Did she make it up while watching BET and re-runs of Good Times by creating a mashup of overheard phrases? Is she appropriating blackness? Or is she code switching between the rural, working-class talk of her parents and a more acceptable white southern speech pattern conducive to the promise of upward mobility in/through/of pageant life?
I've watched Alana since she was the foil of foils on TLC's Toddlers and Tiaras, where her slipperiness as a trickster was on full display. While producers desperately attempted to portray her and her family as the dupes—as the overweight, lower class, redneck outsiders—Alana's presence highlighted the problems of pageantry far better than close-ups on botox-lipped moms explicitly living vicariously through their daughters could. Alana's was a genuinely caring family, generally free of the typical pageant pathology, appropriating a form of southern cultural capital that could offer a way out from the working class through social capital. It's not too far-fetched; the Thompson-Shannons are shrewd and after all, Deborah Ford argues that anyone with the proper knowledge capital can fake it until they make it.
Much has been made of the Thompson-Shannons' farting, breath-identification contests, concoction of butter and ketchup for pasta sauce (aptly called "sketti"), Alana's go-go juice, and weight. Sympathizers have argued that the Thompson-Shannons are grossly underpaid (not unlike African American reality television stars), andrumors of a raise have eased such folks thin consciences. A great deal of commentary has focused, for better or worse, on the show's perpetuation of broadly accessible stereotypes of southern whiteness, which shames white folks in general but reformed southern whites and southern white liberals in particular. Yet, the success of the deployment of stereotypes for creating can't-watch-can't-turn-away reality television is predicated upon the show's soundtrack: the subtitled rural/southern/sassy/black accents of the Thompson-Shannons, and specifically, of Alana.
While southerners on any number of southern-themed reality shows about swamps, gators, or weddings are often subtitled, the need to translate the Thompson-Shannons, and especially Alana, intersects with a largely imposed perception of the racial slipperiness of their speech patterns. Some commenters on Willa Paskin's Salon piece about the show (shout out to Joey Thompson for alerting me to the comment "gold") questioned the widely circulated notion that Alana's speech is that of a stereotypical "sassy [urban] black woman." Instead, they argued, Honey Boo Boo and the Thompson-Shannons are serving us rural, country-South realness.
Our inability to pinpoint what's being signified by the Thompson-Shannon's speech is a consequence of our continued inability to think about the co-existence—rather than just the simultaneous but separate existence—of black folks and white folks. It is a function of our persistent adherence to what Southern Studies scholar Tara McPherson calls lenticular logic. Cyclical flows of black and white folks from rural southern towns to southern cities, and then beyond to all parts of the country, meant rural folkways, and moreover rural ontology, traveled beyond the confines of piney woods and flat-earth deltas. In the South, we know that despite the strict and invidious codes of Jim Crow, black and white folks shared cultures and intermingled, ironically perhaps moreso then than now in our increasingly but politely segregated southern neighborhoods.
Further, we can't pin the Thompson-Shannons down on one side of a racial fence because the kind of speech Alana offers up when she's Honey Boo Boo Fierce has come to be read not as black/white rural southern, but as exclusively north/south urban black. While white folks' history of appropriating blackness would have us definitively mark Alana as a white/black minstrel, to stop the analysis there is to reinforce a fallacious lenticular logic. Further, the kind of white folks the Thompson-Shannons are—regular, plain, southern, perhaps redneck, white folks—means we collectively have no tolerance for their seeming appropriation. If they were white Cajuns from the Louisiana bayou, they could sound like black Louisianans from the bayou all they wanted. Somehow, we're willing to imagine a primitive, New Orleans bayou culture—like the one most recently on fantastical display in Beasts of the Southern Wild—with organic cultural and racial mixing out of desire, proximity, and necessity, but not a community of "regular" white and black folks in Georgia, Alabama, or Mississippi. And although New Orleans and the Mississippi Gulf Coast sometimes had different interracial norms and practices than the rest of the Deep South, as Ida B. Wells pointed out with both eloquence and shade, we know people crossed lines all the time. We also know that New Orleans and the Gulf Coast weren't the interracial utopias we like to imagine they were.
Ultimately, our unwillingness to understand Alana/Honey Boo Boo Fierce's presentation of self is complicated by her "redneck" whiteness, her reality stardom, her code switching (or appropriation), and her perceived trespass on blackness in an old minstrel vehicle. Our distaste—expressed variously as the kind of sympathy one might have on a three-legged dog, as biting vitriol, and as "benign" ridicule—says more about our class and race anxieties in the age of Obama and the Great Recession than it does about the Shannon-Thompsons, whose matriarch famously declared that one either likes them or one does not. For my part, I do like Honey Boo Boo Fierce, feminist Mama June, doting Sugar Bear, the pregnant sister, the other sister,and the other sister. How can I not like folks that conjure my childhood in so many ways, ways I had long-since forgotten? When Alana donned an airbrushed shirt with her nickname on the front and famous "A dolla makes me holla" catch phrase on the back during the Olympic-themed fifth episode of season six, I had to squint to make sure she hadn't fallen all the way on the black side of the southern fence.
Shade at the winners: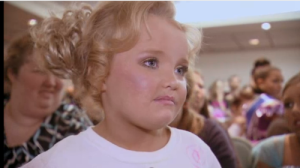 Mother-daughter co-shade: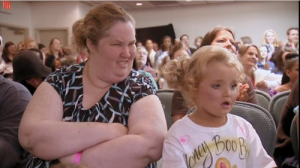 An airbrushed shirt? Honeybabychickeechile, if that ain't post-whitefolks Mall of Memphis, I don't know what is.